Get the Best Deals on Wheels and Tires
Call Sin City Wheels and Tires Now to Replace or Repair your Rims and Tires     (702) 255-8473

It takes more than just good discounts on wheels and tires to make a great deal. Read on and see how we do more for you by providing repair, replace, or customized wheels and tire service with such great customer care and a terrific price that you'll want to refer your friends!
After all, that's how we grew our family business in Las Vegas. We have been providing your favorite dealers and car repair stations with wholesale quality service and we are ... Now Selling Direct To The Public!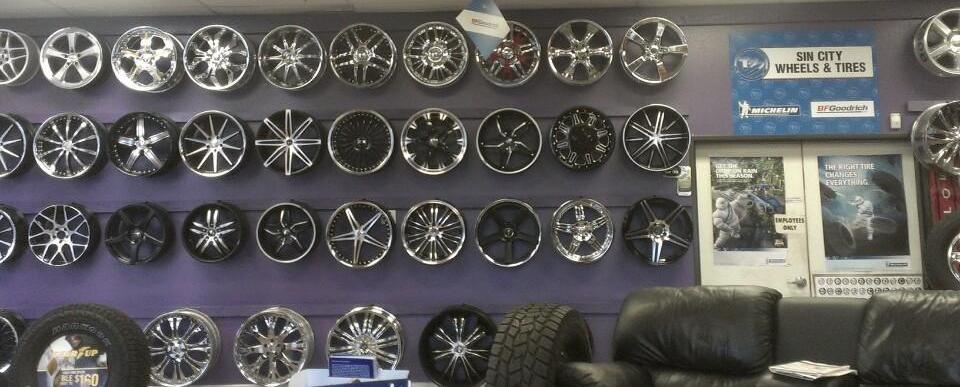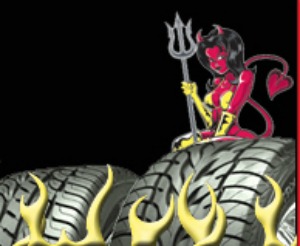 Click To Call 702-255-8473
Send Us an E-mail
Sales@SinCityWheelsAndTires.com
get Our Newsletter
---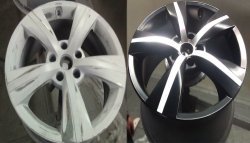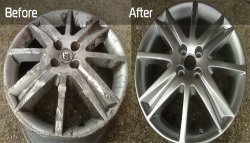 Get wheel painting to match your original car specs. But don't stop there!
Why not upgrade your wheels with custom colors, patterns or brushed aluminum

---
We do all wheel repairs, from curb rash or badly damaged alloy wheels on your daily driver to a bent rim on a show car
In house machinery gets your work done fast!

---
Need high end custom wheels and tires for your luxury car at below dealer prices?
Or are you shopping for discount tires and rims to fit your budget - we do it all

---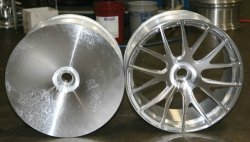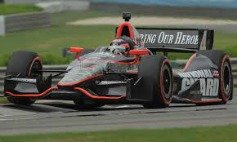 Need OEM replacement wheel?
Want to upgrade with our low cost custom wheels for your Mustang?
We'll design & build rims for your Lambo

---
Can't find the right wheel for your car?
Choose from our huge selection of some of the hottest styles of custom wheels
we'll drill custom wheel to fit your vehicle

---
Want better fuel economy? Longer tire life?   Improved safety and fewer stops for 'air'?
Our Nitrogen Inflation equipment fills your tires the correct way, just like the Indy Race Cars,
and at a great price!
---
WE BUY YOUR OEM WHEELS  -  GET AN UPGRADE
AVOID DEALER PRICING ON OEM WHEELS - BUY REFURBISHED WHEELS AND SAVE EVEN MORE
---
Watch Our Videos! We invite you to visit us for the
Best Wheels and Tires in Las Vegas

Here's A Sin City Video From Our Girls
Wheel & Tire Video from Steve
---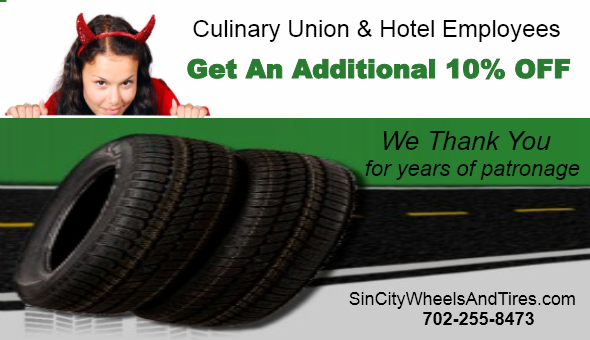 Don't Forget, Subscribe To Our Newsletter Before Leaving!
Mike's Comment on Sin City Wheels and Tires Great service. Grat price. Grat communication. I would recommend Sin City to anyone. Got me what I wanted.

Rim and Tire Gallery from our Customers in Las Vegas I Sin City Wheels and Tires

Steve Yeghiayan personal blog from Sin City Wheels and Tires on saving you money on rims and tires and bring you quality discount tires