FREE Window Tinting - Spring 2015

Free Window Tinting for Spring 2015 is has expired
Check Back For Our Spring 2016 Special - We can't wait to see what it will be either!
When You Buy a Complete Set Of Wheels and Tires from Sin City Wheels and Tires

Call NOW to Get FREE Window Tinting for yor car or truck when you Buy four sets of Wheels and Tires!
Block those hot desert UV rays and COOL OFF that auto interior. Tinting your windows will also
Protect your seats and carpet from fading
reduce glare
reduce sunshine to allow you to feel more comfortable

add to that custom car look to match those new wheels and tires
one stop shopping - and what a great price, too!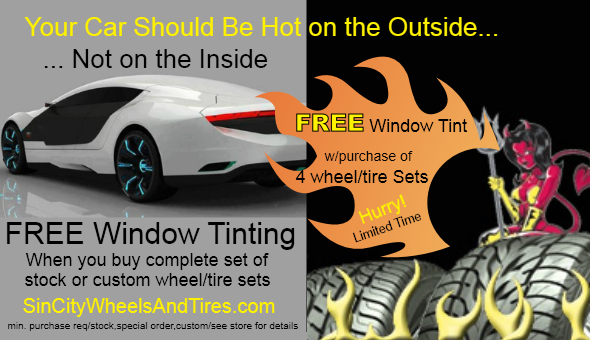 ---
Buy a Set of 4 Wheels and Tires from the Experts to get your FREE Window Tinting

No one is better at matching up the perfect set of wheels and tires for your car, truck or SUV than Sin City Wheels and Tires. We've been the leader in Las Vegas by performing our expert technical work for Clark County Dealerships and Auto Repair Centers.
Now you can get this high level of professionalism with the county's exclusive computerized laser equipment. We have too many wheels to list here - you'll want to stop in and see for yourself. We can make your ride as exclusive as you'd like.
We have:
Hundreds of in-stock wheels
Thousand more on special order
Custom wheels
Sin City made to order wheels - you design your own wheels
Drilling equipment to save you money by switching wheel brands

But Hurry! This is a very limited time offer
Call 702-255-8473 NOW and Come On In!

Leave our Free Tinting Special and go to our Homepage

Don't Forget, Subscribe To Our Newsletter Before Leaving!
Mike's Comment on Sin City Wheels and Tires Great service. Grat price. Grat communication. I would recommend Sin City to anyone. Got me what I wanted.

Rim and Tire Gallery from our Customers in Las Vegas I Sin City Wheels and Tires

Steve Yeghiayan personal blog from Sin City Wheels and Tires on saving you money on rims and tires and bring you quality discount tires